Prepper Camp 2023 
Tickets Available Now!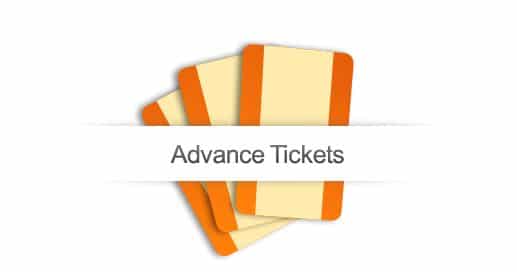 Get the Advance Discount on Tickets Now 
Advance Tickets- Adults (aged 16 and up) Only $64.95 for the entire weekend. This price is available only until midnight of June 30th. After that tickets will be $69.95. Tickets will be $89.95 prior to the event.  No Tickets will be sold at the door!
Advance Tickets- Student (ages 7-15) Only $59.95 for the entire weekend. This price is available only until midnight of June 30th. After that tickets will be $64.95. Tickets will be $79.95 prior to the event.  No Tickets will be sold at the door!
Child 2-7 years old.   Only $9.95  (Sorry. We must have a minimum charge for children of this age, since they must be accompanied by an adult, and therefore will occupy seats during our many teaching sessions.)
Pets (Dogs, Cats, Llamas, etc.)  of any age.   NOT Allowed at the Event.   Because of incidents in the past, no pets are allowed on the event grounds. (If you are paying Orchard Lake Campground for a campsite, you may keep pets in your campsite, based on the rules of the campground.)
Prepper Camp Tickets are NON REFUNDABLE.  (However, you may transfer your tickets to someone else of your choosing, if it turns out that you are not able to use the tickets yourself. Scroll down to see more suggestions on buying and selling existing tickets.) 
Scroll Down For More Ticket Information Below!
The Event and the Campground are located at Orchard Lake Campground, 460 Orchard Lake Rd, Saluda, NC  (click here for directions)
Overnight Campground Reservations:
You can camp on site, commute from home, or stay at an area hotel to attend Prepper Camp, so camping reservations are a separate transaction from the purchase of Prepper Camp Event Tickets.
After you purchase your Prepper Camp event tickets, if you would like to camp on site,  simply contact the Orchard Lake Campground office and request reservations for their camping facilities. You can make on-line reservation requests here: https://www.orchardlakecampground.com/reservations/
Tent City sites (without hookups) are also available below. 
If you would like to make reservations to stay at the Campground for the Prepper Camp event, you can find out more information by contacting the campsite owner via email or by calling the Orchard Lake Campground office and leaving a message. You can see their website for more information as well as contact information and the phone number: www.orchardlakecampground.com 

Tent City sites (without hookups) 
Camp on site and make Prepper Camp 2023 a 24hr/day experience! Share information and camaraderie with other Prepper Camp attendees from all over the country. 
(Again, contact Orchard Lake Campground, to make reservations for camping on site.)
Or you can make alternate plans for reservations at area hotels in the Saluda or Hendersonville NC areas.  (A list of hotels within close driving distance of  Prepper Camp are given below.)
Hotels Within Close Proximity to Prepper Camp
Hampton Inn, Hendersonville, NC
This is a Hilton Property- so your Honors program works here. Call hotel directly for reservations 828-697-2333. Visit the website for more information on the hotel: www.hendersonville.hamptoninn.com
Saluda Mountain Lodge, Saluda, NC
"Here at the Saluda Mountain Lodge, we go the extra mile to make your stay as relaxing and enjoyable as possible.  We offer park-at-your-door convenience with the personal service of an exclusive Bed & Breakfast."
Please call us at (828) 749-4951 with your credit card information to secure your reservation. www.saludamountainlodge.com
Mountain Inn & Suites Flat Rock, NC
30 standard 2 queen rooms-  828-692-7772.
www.mountaininnflatrock.com
Click on these Accommodations links for information on how to contact these additional lodging providers.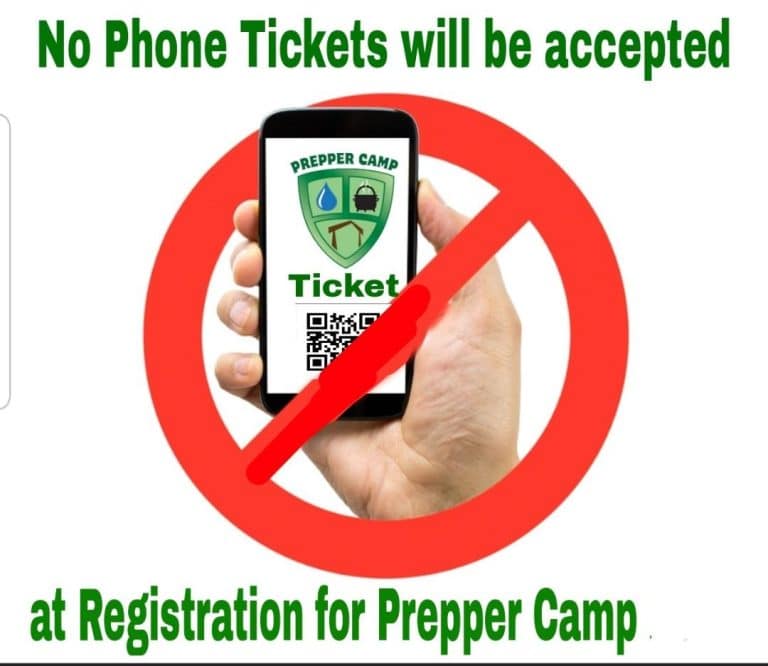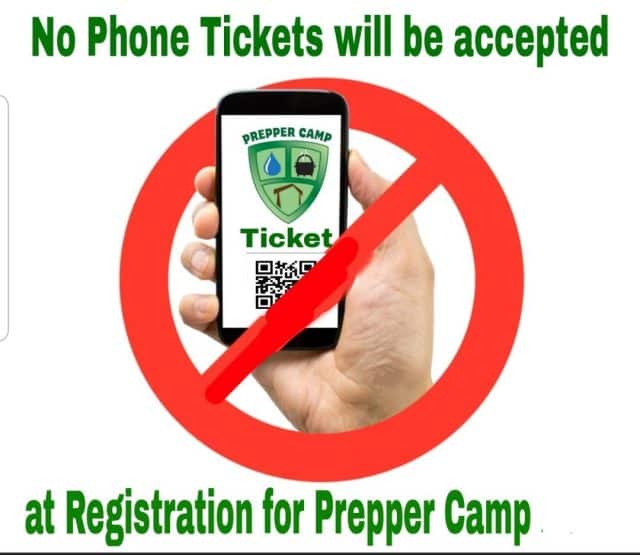 We have no way accept tickets saved to yur phone!  So PRINT OUT YOUR TICKETS and bring them with you to registration!
By Purchasing Tickets below, you have agreed to our Terms of Service. (Click here) 
Click the Red Box bleow to order Tickets for Prepper Camp 2023 right now!
FYI: You may have to turn off your ad blocker/cookies blocker (not use DuckDuckGo) to be able to "add to cart". 
Or Click Here to get to the Ticketing site 
Or use this link:
Tickets: https://wwwpreppercampcom.ticketleap.com/prepper-camp-2023/ 
If You Cannot Find Your Tickets, Please Note:
We do not mail tickets to you. You can download tickets from the Ticket Leap website after you pay for them (click "Return To Merchant" after you have paid).
You will also have received a confirmation email where you can download and print your tickets (the email will be from "Ticketleap orders" with the subject line: "Your Ticket – Prepper Camp 2023").
Note: Your bank and credit card statements may indicate your Prepper Camp ticket purchase as "PREPPERCAMP", "PrepCampAlevenGoats", or "Aleven Goats Media, Inc."
Prepper Camp, Prepper Camp 2014, Prepper Camp 2015, Prepper Camp 2016, Prepper Camp 2017,  Prepper Camp 2018, Prepper Camp 2019, Prepper Camp 2020,  Prepper Camp 2021, Prepper Camp 2022, Prepper Camp 2023 and Preppercamp.com are  Service Marks and Trademarks of Aleven Goats Media, Inc.
© 2014, 2015, 2016, 2017, 2018, 2019, 2020, 2021, 2022, 2023 Aleven Goats Media, Inc. All Rights Reserved. 
Videos by Prepper Camp 2022 musical guest: Five Times August (below)
Support Our Sponsors Below!
SecretGardenOfSurvival.com
Survivalist Gardener YouTube
Prepper Camp Merchandise!