The official PREPPER CAMP 2020 T-shirt is now available for pre-sale! Support the largest prepper event in the US, by purchasing the new PREPPER CAMP 2020 T-shirt!
Jerry apologizes for any issues with shipping last year. So this year we have decided to do t-shirt "pickup only" at the Brush Fire Booth at the Prepper Camp event, to avoid additional shipping fees and any confusion. Brush Fire thanks you for your continued support!
Preorders Only. Must order by September 1st. You can order your T-shirts through Brushfire Bushcraft at: https://www.etsy.com/listing/784923007/prepper-camp-2020-t-shirts-pick-up-only
Shirts will be available for pick up at the Brushfire Bushcraft and Survival booth at PREPPER CAMP September 25th – 27th, 2020.
Covid 19 Commemorative T-Shirt
Here is a way to say that you laugh in the face of pandemics!
Get your Covid 19 commemorative T-shirt today!
(4 colors to choose from!)
https://www.etsy.com/listing/790050963/mens-fitted-short-sleeve-tee
Order today and have them shipped to you now!
Prepper Camp Velcro Patch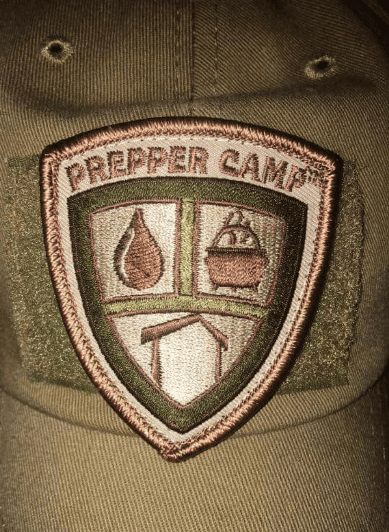 Your Prepper Camp Velcro Patch can be worn on your hats, clothing, backpack and more! Patch is 2.5″ tall and has the "hook" backing, so it will stick to any "loop" surface.
We will have a supply of these at Prepper Camp at the Brushfire Bushcraft and Survival booth… but supplies are limited.
Only $5.00!
Prepper Camp, Prepper Camp 2014, Prepper Camp 2015, Prepper Camp 2016, Prepper Camp 2017, Prepper Camp 2018, Prepper Camp 2019, Prepper Camp 2020, Prepper Camp 2021 and Preppercamp.com are Service Marks and Trademarks of Aleven Goats Media, Inc.
© 2014-2021, Aleven Goats Media Inc. All rights reserved.
Sign up for Updates!
Sign up for Updates!
Agenda- Grinding American Down Curtis Bowers - Film Maker
Podcast about Prepper Camp
Click Below to Listen to the Matter Of Facts Podcast with Rick Austin on Prepper Camp
Support Our Sponsors Below!
Prepper Broadcasting Network!
SecretGardenOfSurvival.com
Survivalist Gardener YouTube
Prepper Camp Merchandise!